I've never actually done a wishlist before - I just felt like they didn't have the same personal touch that I always like to add to my blog. Yesterday, however, I was sat thinking about all of the lovely foundations that I really want to buy but just can't afford, when it suddenly occured to me that it would make quite a good blog post. Unlike many wishlists, I've actually owned some of these foundations before and just really want them back on my face... Looking at my picks you may call me a foundation snob, but if it's a wishlist then there's no budget, right?!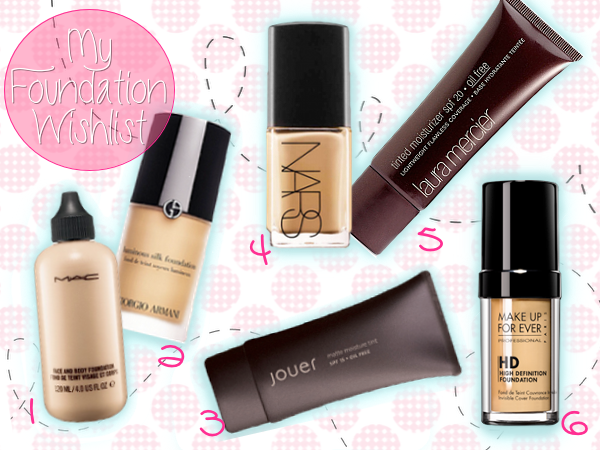 1 Mac Face and Body
(£26.50) - I actually haven't owned this foundation before, and despite so many good reviews I was never really that interested until recently. A few people have complained that some Mac foundations break them out, but I've been suffering quite a bit with dry skin recently and so many top makeup artists have raved about the dewey glow that this gives to dry skin. Well colour me intrigued, I want to see what all of the fuss is about!
2 Giorgio Armani Luminous Silk Foundation
(£34.50) - As it's the end of term and my student loan is running out, I've recently taken to wallowing in self pity at the makeup counters of Harvey Nichols and Selfridges, both of which stock this foundation. It repeatedly seems to be raved about my various beauty bloggers and vloggers too and I must admit it makes their skin look amazing. There's something so luxurious about the look of this foundation, so I'm thinking of asking for this for my next birthday as a cheeky treat!
3 Jouer Matte Moisture Tint
(£29) - Well call me a sucker for a good blog review because this is yet another base that I have never tried. Being a dry skinned girl I tend to shy away from matte products, but the idea of a matte, tinted moisturiser got me interested. From the pictures that I've seen this actually makes the skin look really polished and fresh.
4 Nars Sheer Glow Foundation
(£30.50) - Now I know that I've gone on about this one before! This has to be my favourite foundation that I've ever tried. It may be pricey, but it gives the skin medium coverage and looks absolutely flawless, even in photographs (it's SPF free) which makes it my go to foundation for a night out. I've nearly used up my third bottle of this now and I'm still going back for more!
5 Laura Mercier Oil-Free Tinted Moisturiser
(£33) - Other than the occasional dry patch or spot I tend to have pretty good skin and so on a regular day I don't like to cake my face with foundation. I ran out of this a few months back and now that the summer months are here I'm really missing it, although it feels very light on the skin it can be built up to a medium coverage. I would definitely recommend the oil-free version no matter how dry you think your skin is, though.
6 Makeup Forever HD Foundation
(£30.95) - I owned this foundation a couple of years ago, and unfortunately it got damaged whilst traveling so I don't remember a lot about the product itself. I do remember though that I really liked it. I think that it gave a fairly full coverage but was not at all thick, as I've already mentioned I don't like to feel like I'm caking on my makeup. Whenever I see this on someone else I always think that their skin looks so naturally flawless and glowing so I'm desperate to get my mits on it again!