Hayley Adlam is a twenty two year old Marine Geography student in her final year at Cardiff University. Having entered her first beauty pageant only a year ago for "a bit of fun", Hayley has just been crowned
Miss Hampshire
and will be competing in the Miss England finals in Torquay later this month. Hayley has been kind enough to share with us some her tips and tricks on looking, and most importantly feeling your best.
Hi, Hayley! To start off do you think you could share with us a few beauty products that you're loving at the moment?
Fresh coconut oil! The oil I use can be bought in any local supermarket and is by the Groovy Food Company. It is brilliant to put on your hair for moisturising and adding a beautiful glossy shine in addition to being totally natural and good for the environment! You can also use it on your face to remove your make up, as despite being an oil it is in fact antibacterial and keeps your skin fresh and blemish free! I also wouldn't be without my
Champneys Spa Skin Plus
range. I use their collagen intense eye therapy cream and moisturising day cream morning and night to fight away tired skin from all those nights studying and partying at university!
Good plan, after all great skin helps to create a good base for our makeup - could you tell us anything else about your skincare routine?
I use Champneys spa skin moisturising day cream and collagen intense eye therapy cream to keep my skin glowing and reduce any puffiness around the eye area and I also use coconut oil to remove my makeup. I find that I am very lucky and rarely get spots, however, if I do, I pop a bit of toothpaste on the red area overnight to soothe the spot and help the skin heal.
Now onto the makeup! How would you describe your general day to day look?
Usually I wear very little make up if any at all if I am at home, however if I go out shopping or to uni then I tend to stick to a natural look with foundation, powder and a bit of bronzer to highlight my cheekbones and then on my eyes I use black mascara on both the top and bottom lashes and a dark brown eyebrow pencil to shape my eyebrows and frame my face.
It sounds perfect... but if you had to pick only three beauty products that you could use for the rest of your life, what would they be?
Groovy Food Coconut Oil, Rimmel Moisture Renew Lipstick and the Champney's Collagen Intense Eye Therapy.
Lipstick can be such a pick me up, can you tell us a bit more about the Rimmel one?
I love using
Rimmel Moisture Renew Lipstick
! It is fantastic value and has a whole range of different shades! My favourites are Vintage Pink for my daytime look and Heather Shimmer for my evening makeup although for the Miss England finals I'm going to go for a ruby red! In the evening I also like to put a clear gloss over the top of my lipstick for that extra shine!
Rimmel must be my favourite make-up brand, not only do I love their lipsticks but their match perfection foundation is brilliant especially when combined with their clear complexion natural minerals powder. I am also a huge fan of Bare Minerals products and they leave your skin feeling healthy after every use! Rimmel have a strict no-animal testing criteria for all their products which is also hugely important to me as an animal lover myself! Since 1991 Rimmel have ceased to test their products on animals which keeps me feeling happy that my use of make-up isn't compromising the welfare of any innocent furry creatures!
I have to agree with you there, I don't think I'd be satisfied knowing my lips looked a bit shinier at the cost of an animal's welfare. Can you tell us a bit about your "pageant look"?
I like to go for a glamorous and elegant look for pageants without wearing too much make up, as I sometimes feel that makeup can detract from your natural features. It is all about enhancing what you are blessed with naturally and making the most of it! I like to have curly, voluminous hair which usually takes about an hour to achieve due to having very thick hair. My makeup usually takes about forty minutes but most of that time is spent usually trying to figure out how to get my false eyelashes to stay in place!
I totally agree with your philosophy on makeup! But are there any aspects of doing your makeup or hair that you aren't so good at?
Curling my hair I find especially difficult due to the length and thickness of my hair. I often twist my hair into a bun and spray it to create volume, bounce and a natural curl for photo-calls, however for pageant days I rely upon the expertise of my sister Charlotte and her fabulous hair curling talents!
That's nice, did you rely on her expertise for anything else on the day?
For the Miss Hampshire contest I had a huge amount of help from her curling all of my hair prior to the contest and pinning it all in place so the curls would last throughout rehearsals. She also spray tanned me the night before the contest using the
FakeBake Beyond Bronze
range to give me a lovely golden glow! I did my make up myself on the day of the competition. My best friend Yolly Barnes taught me how to do my eye make up to suit me best prior to the contest so I must thank her for giving me some great advice!
For the Miss England competition we have a hairdresser and make up artist who will be helping us achieve the look we want to wow the judges with which will be fabulous! We are also lucky enough to be having the beautiful TOWIE star Chloe Sims spray tanning us all with her gorgeous product Montana Tan which develops within only 60 minutes!
It all sounds very glamorous! We know however that you also put a lot of time and effort into feeling great. What's your general approach to health and fitness?
I love keeping myself fit and healthy and regularly go to the gym to do classes such as spinning, beach body fitness, zumba, yoga and body pump. I also enjoy short runs around my local area in the New Forest and around Roath Park Lake near where I live at uni. Most importantly it is good to drink loads of water to keep your body fit and healthy and to allow you to concentrate better in your studies and to work at the most efficient level when exercising. This also helps flush out bad toxins from your body and keep you healthy! I drink around 3 to 4 litres of water per day depending on my level of exercise.
In that case I'm sure that your energy levels are very important to you - what's your advice on staying healthy in terms of diet?
My diet is quite strict due to a wheat intolerance which at first I found quite restricting, however a reduction in wheat has actually improved my health greatly in addition to maintaining a healthy body. I also don't eat any white or processed foods and stick to brown rice and quinoa. Due to this, I make all my food from scratch such as chilli, curry sauce and bolognese. I also do this to avoid the large levels of sugar and salt which is put into processed foods, many of which are 10% carbohydrates and sugar!
I love to eat bananas, unsalted nuts, berries, vegetables, mozzarella, chorizo and salads with balsamic glaze! I eat spinach with almost every meal and maintain the opinion that it is one of the best super foods around! The doctor told me I have great hemoglobin levels so I must be doing something right! I also drink a lot of tea and love all kinds; English breakfast tea, green tea and peppermint tea are some of my favourites and all possess great health qualities!
I try to include acai berries in my diet which are great for maintaining a healthy metabolism. I cook with coconut oil (The same as I use for my hair and skin!) as it is the only fat which doesn't transfer to trans fats when cooked and is one of the healthiest fats you can consume! However, on salads I love a drizzle of extra virgin olive oil as in it's uncooked state olive oil is also great for you too!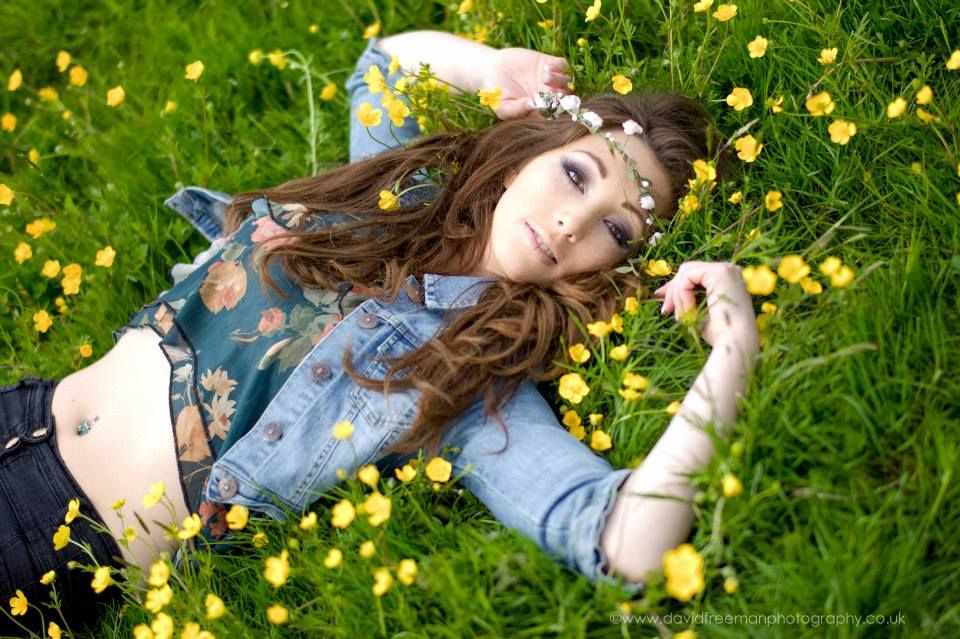 It seems as though you have a very healthy outlook on food - it just goes to show that you don't have to starve yourself to look great and be a pageant winner! How exactly did you get into doing pageants?
I entered my first competition last year primarily to see what it was all about and for a bit of fun! As it turned out, I absolutely loved it! It was so much fun and all the people involved were a joy to get to know and a credit to England. After that first pageant, I wanted to take part in the Miss Hampshire contest and I was over the moon to have won bringing the crown back to my home county. By winning the Miss Hampshire contest I have now qualified for Miss England and will be participating in Torquay, Devon, home to our current Miss England, the beautiful Charlotte Holmes. The finals take place over four days and consist of eight heats including charity fundraising, designing your very own dress from recycled materials and modelling.
Finally, do you think that you could explain a bit about what the 'Miss England' competitions mean to you?
I believe that the Miss England competitions are a fabulous way to instill confidence in young women. They teach those who enter how to be gracious, kind and accepting of people from all walks of life in addition to helping the girls work hard for charities and use their beauty for a purpose, hence the Miss World charity
'Beauty with a Purpose'
which was founded by Angie Beasley the director of the Miss England organisation to fundraise for disadvantaged children's charities across the UK. It is a fabulous way to get the girls who enter involved in their community taking them back to their roots and getting them involved in activities which could be seen as being typically 'old fashioned. Helping an elderly woman with her shopping, however, should be seen as a privilege and not a burden to people in society and I feel that pageant girls use their role in the community to help others on so many levels, not only by hosting fundraising events but also helping people on a day to day basis.
Pageant girls also tend to be very aspirational, intelligent and driven young women with admirable career goals. I have met several girls during my time participating in pageants who have inspired me to try new things! This is particularly interesting with regards to the talent round whereby each young lady presents something they are talented at doing in the form of a YouTube video. My talent for example is clay pigeon shooting!
Thank you so much for taking the time to chat to us Hayley and for your fantastic answers. Is there anything more that you would like to add?
Thank you so much for including me in your blog! I'm really looking forward to reading the article! I think that is all but most importantly I wanted to say that it is all about having a healthy body and a healthy mind.